What is a Pole Building?
Pole buildings, also known as "pole barns" or "post-frame" buildings, are structures that are built without the traditional framing method and foundation. Instead, wooden poles are spaced around the outside of the structure approximately every 8-12 feet. Sometimes the entrance of a pole building is much larger due to farming equipment, for example. The poles are placed further apart in these cases. The poles are buried in holes dug in the ground and are sometimes connected to a concrete slab foundation. The poles are connected to each other horizontally by lumber girts which adds additional support. It is a simple design that offers durability and more straightforward construction, cutting labor costs.
What Are Pole Buildings Used For?
Pole buildings first came about in the 1930s, when the Great Depression and Dust Bowl caused the agricultural industry to pivot and need buildings that could be built faster and with less labor. As larger farming equipment became more prevalent, so did pole buildings! Pole buildings are now used for a wide variety of facilities, including homes! The options for pole buildings are limitless. The sky's the limit to what these buildings can be used for.
Pole Buildings Can Be Used For:
Extra storage spaces / Warehouses
Workshops
Small retail stores
Farm storage
Animal barns
RV and boat storage
Equipment storage buildings
Greenhouses
Showrooms
Fire Stations
Garages
And More!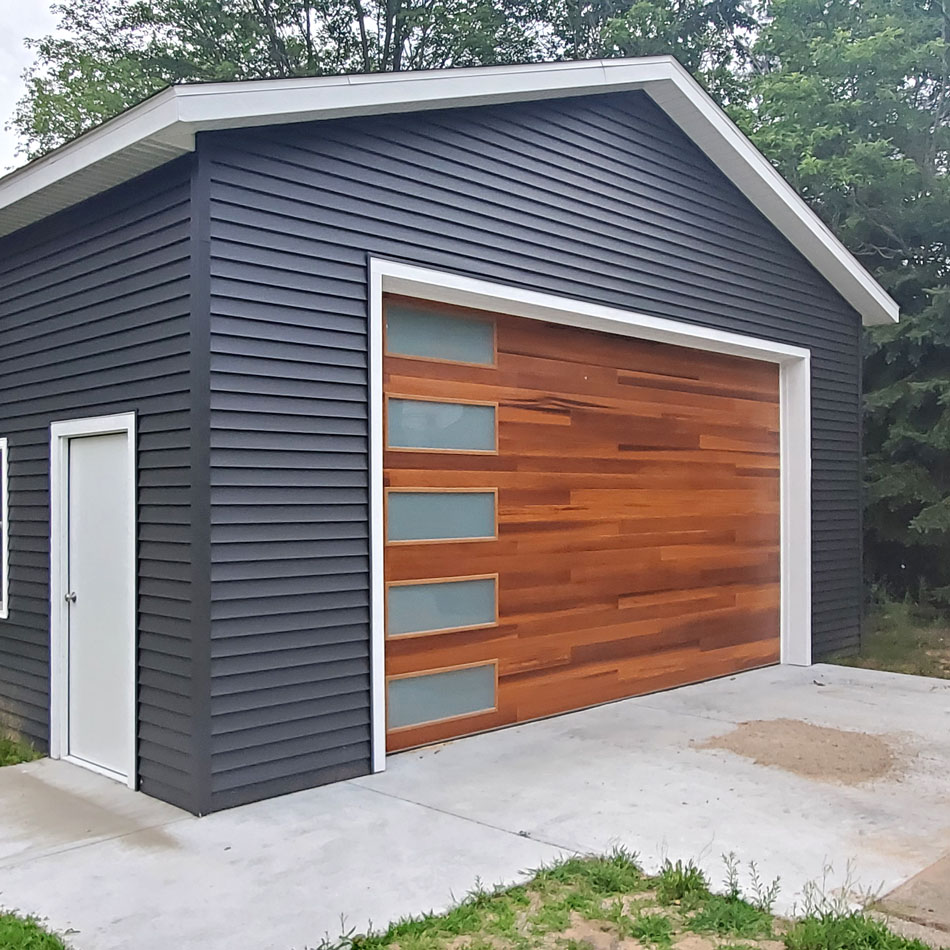 Why Choose to Build a Pole Building?
Many people wonder what the benefits of a pole building are. Why not use typical framing methods and start with a foundation, as seen in most homes and building designs? Although there is nothing wrong with these more recognized building methods, many owners of pole buildings choose this method of construction because it provides numerous benefits!
Benefits of Pole Buildings:
Pole buildings are sturdy.
The walls don't suffer from excess weight.
They can be built in any environment.
They provide ample spaces for commercial use.
They can be built more quickly.
They have smaller foundation costs.
There are many color options and styles.
It's a budget-friendly option with lower labor costs.
Installing an Overhead Door on a Pole Building
Whether you build a pole building on your residential property to use as a garage, workshop, or space for a particular hobby, or you own a commercial business that can benefit from a pole building, it will need a door! It's essential to hire a professional team who can measure and install the correct type of pole building garage door to meet your specific needs.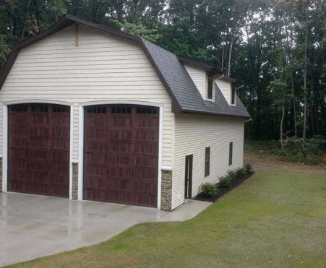 Pole building garage doors can be specially made based on the door opening size needed. This is crucial for pole buildings dedicated to oversized housing equipment. With proper maintenance, a pole building can last anywhere from 40-60 years, many times longer. A pole building garage door can last from 15-30 years. Choosing a quality overhead door and selecting an expert garage door team to install it can make a significant difference in the longevity of your pole building garage door.
Pole Building

Garage Door

Installation in Southwest Michigan
At Guse-Hahn Garage Doors, our team is experienced in pole building garage door installation, repair, and maintenance. If you are located in the Southwest Michigan area and need garage door service for your pole building, we are confident we can help! We are here to answer your questions and make recommendations based on your unique needs. Our team gladly offers free consultations, so if you plan to build a pole building or need an overhead door replacement for your current pole building, schedule an appointment with us today! We will help you find the best pole building garage door specific to your needs!