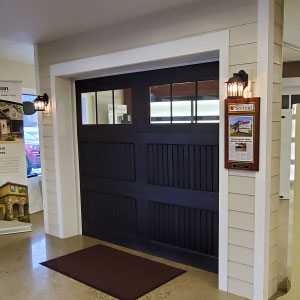 Garage Door

Showroom of Stunning Garage Doors
A beautiful, functional garage door adds value to the appearance of your home more than anything else. In fact, an upgraded garage door has the highest ROI value of any other home improvement! So you should definitely consider installing a new garage door.
A new garage door will increase your curb appeal and market value, function better, and look amazing! Not to mention, with enhanced safety features, a new garage door will keep your family safe while keeping intruders out. Are you just starting your search for your new overhead door or do you know exactly what you want? Either way, we have tons of options to consider! Feel free to browse our extensive collections or call our office at (269) 926-7411. Whatever type of door you're looking for, we can help you find it!
Why You Should Visit Our Showroom
We have tons of options for garage doors and garage door openers. Visiting our showroom, you can witness how smooth and quiet the openers are and how everything functions together. It's a great way to get ideas about the styles and materials you love the most. You'll be able to see how you can mix and match a lot of the styles, materials, colors, and openers. Not to mention, our friendly staff are ready to answer any questions you may have and help you choose your perfect garage door! With our convenient location in West Michigan, you'll be able to stop by easily. Why wait? Call us today to get started on getting a new garage door.
If you already have an idea of what you're looking for, then let us show you that idea in action! You'll be able to see exactly what you're looking for while getting all of your questions answered. Come and visit us today!